Latest News
Help us build a database for all Indian and South Asian film, TV and web.
Browse Films
Trailer Watch
Filmtribe
Pick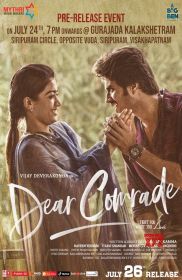 Dear Comrade
Dir: Bharat Kamma
Writer: Craig Mazin
★ Vijay Deverakonda, Rashmika Mandanna.
A love story between Bobby, a student union leader and Lily, a state-level cricketer. Bobby has anger management issues, which he needs to overcome and fight for his love.
Your discovery place for world cinema and Indian film, TV, and web content.
Discover
A searchable database for films and information on what is going on in the world of film, TV and web content.
Discuss
A social network to participate in discussions and get feedback on films from your friends and communities you build.
Watch
Find something you like? Your streaming search engine. If it's online, it'll tell you where to watch it now.